I've known about
Rent the Runway
for a while - I can't actually remember how I first learned of it. As Andrew and I prepared for his sister's destination wedding in Florida, I thought it'd be the perfect opportunity to rent a dress or two. After all, they weren't selling much in the way of wedding worthy dresses for warmer climates here in Michigan. So I scoured the site over and over looking for the perfect dress. There were many I liked, but some were too expensive, not available in my size, or not quite right for the occasion. I finally settled on two, and this is how it went!
I placed my order for two
Shoshanna
dresses about three weeks before the wedding weekend (you can order up to four months in advance). I decided to get them shipped right to Florida so I didn't have to worry about transporting them. When you decide on a dress from RTR, you can choose a back up size for free, and also a second dress of equal or lesser value for $32.50. Also, if you purchase the year-long membership for $30, your shipping and insurance charges are waived, and you get a free rental on your birthday, so I signed up for that as well. I had favorited many dresses, but went with the Shoshanna ones after looking through the photos and reviews from other renters, which were super helpful. You can narrow the reviews by similar body type to yours, and it gives you a much more accurate sense of how the dress will fit since most of us don't have the genes of a model. My rental period was for four days, and I actually received my dresses a day early, so they were there when I arrived in Florida.
The
first dress
I wore for the bridal shower. I had ordered a back up size in this one and ended up going with the larger size. Luckily that worked out because the smaller size was very faded. Hmm. Anyway, I don't normally like pastels, but this looked great with the darker blues. One of the necklaces I brought matched just fine, and I received many compliments!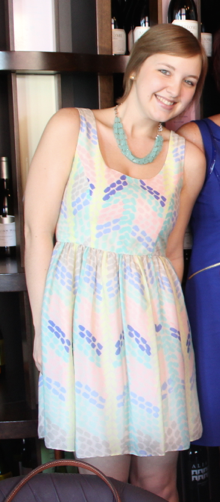 The
dress
I wore for the wedding was perfect! I loved it and it was so me. It was actually slightly cooler than normal in Florida in March, so I was a little chilly, but once we danced intensely to "Timber" I was fine; )
I also wore the larger size in this dress. RTR only sends you one backup, but I found the size chart on Shoshanna's site and was freaking out that the one I ordered wasn't going to fit. No one answered the emails I sent, so I got ahold of them on Twitter and they kindly sent me an additional size. Really I could have worn either size in this dress, but the smaller one had some very tiny stains that no one would have noticed but me.
I also think the dress brought me good luck, being so floral and bright, because I caught the bouquet. NBD!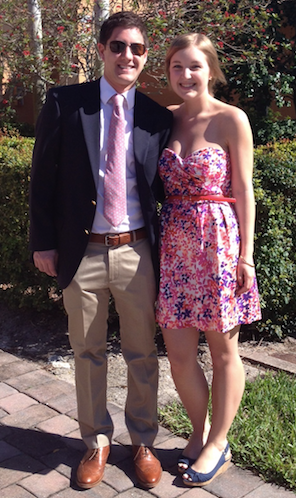 A few other notes about RTR:
They send your dresses via UPS on hangers and in a RTR garment bag, which you get to keep. Fun!
You can also rent accessories on the site, some as cheaply as $5. You can also buy things that can't be returned like spanx, tights, and insoles.
RTR has dresses and accessories from something like 200 different designers.
At the end of your rental period, you simply pack the dresses in the provided UPS envelope and drop it in a UPS box or schedule a pickup. Easy.
If you want to try out RTR and let me refer you, we both get a $20 credit once you rent.
Have you ever tried Rent the Runway? How was your experience?
If you do decide to try it out, I'd love to hear how it goes!
*This review is not affiliated with Rent the Runway. I just wanted to try it and opted to share my experience!