Good Saturday to you! I am a "lead" volunteer for a great event we have in Grand Rapids called
Laughfest
, which runs this year from March 7th - 17th! Laughfest supports our local Gilda's Club, named for SNL great Gilda Radner who was diagnosed with cancer, and as a result lost her funny. She eventually made the most of the remainder of her life but unfortunately lost her life to the disease. Luckily, her legacy lives on! Gilda's Club is a free and open place for those grieving to find their funny and be a part of a great community! Anyway, Laughfest directly supports this great organization and I'm volunteering for my third year, which is coincidentally the third year of Laughfest.
To kick off the festival, we always attempt (and succeed, obviously ) to break a world record! This year it was the most people to wear a fake mustache! Very fun. So my friends and I helped out: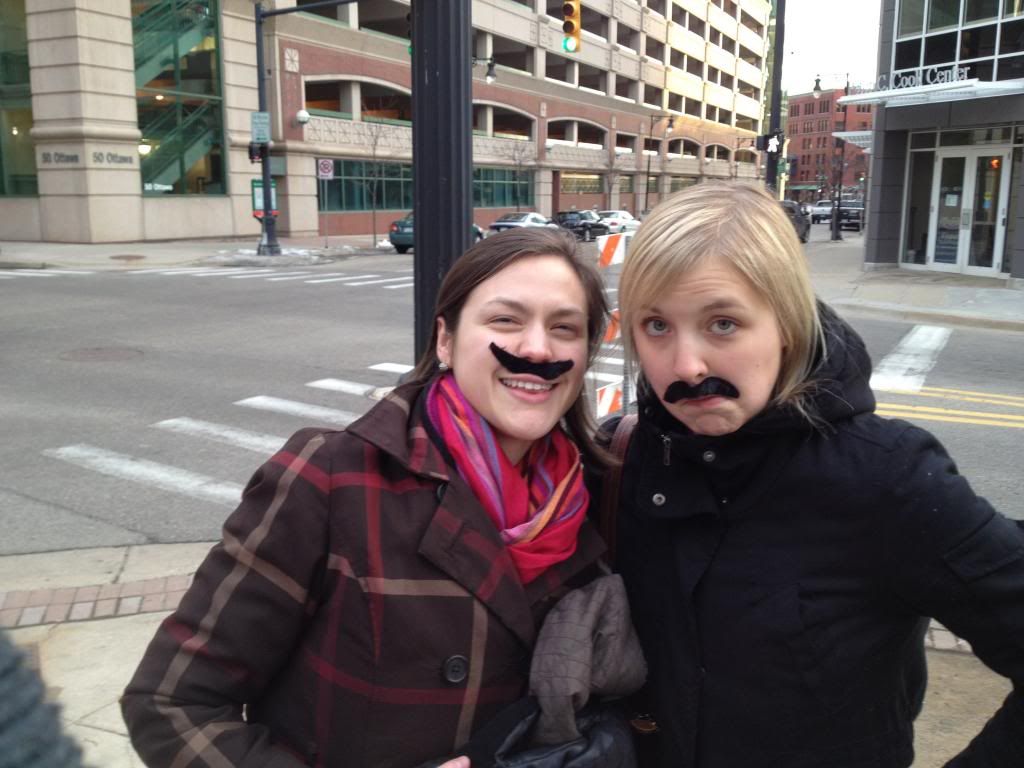 Can you believe it - they actually ran out of mustaches! The previous record was 648 set in St. Louis. We more than doubled it with 1,544. And we would have had over 2,000 if the mustache supply was adequate!
Tonight several of my friends and I are going to see Joel McHale! I'm super excited because the rest of the festival is volunteer mode for me, where I may or may not get to see the show (crossing my fingers extra hard for Wayne Brady)!
Have you heard of Laughfest where you're from? And what do you have going on this weekend? Remember to smile!